Challenging Day at Krabi
4 in 1: ATV + Go Kart + B.B. Gun + Elephant Ride
At your duration of Holiday time in Krabi, you may like to do some adventure action. The package of Activity day provides all popular out door sport to fill up your request.
Do 4 challenged excursions in 1 day as the following:
ATV 30 Minutes
We provide a high standard and perfect condition ATV Car. To make sure that it can make you feel full of Adventure Action Emotion.
Go Kart 15 Minutes
Take you to the high standard of Go Kart Track Field, For sure that you can fly as soon as your heart request.
B.B. Gun 20 Minutes
Do the real-time war game (Not in the computer), try hard to get rid of the hard target – your apposite team.
Elephant Trekking 30 Minutes
Elephant trekking is the most popular excursion of Thailand. As well as on this package, we do not like you to miss this lovely activity. So we included elephant trekking at the best Elephant Camp Of Krabi-Sai-Thai.
Canoeing at Talen Grand Canyon
Enjoy and Thrill with Talent Grand Canyon Adventure by Canoeing.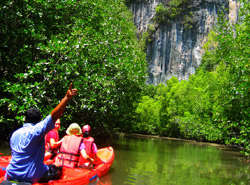 Pick up from every hotel at: 08.30 AM
Drop off at: 14.30 PM
Tour Includes:
Pick UP and Drop off from your hotel
ATV
Elephant Trekking
Go-Kart
Talen Grand Canyon Canoeing
BB Gun (Real Time Game)
Insurance